MORE™ AntiEtch™
Countertop Protection
MORE™ AntiEtch™ adds a 10-year warrantied level of protection against stains and etches from acidic substances such as fruit juices and wine, improper cleaners such as bleach, cosmetics, and other substances.
MORE™ AntiEtch™ is a durable, attractive coating applied to marble, limestone, travertine, onyx, and concrete. It is especially ideal on countertops, conference tables and desks, bar tops, and other surfaces that see a lot of traffic and use. It can prevent premature wear of your stone so that you can avoid hefty restoration costs.
MORE™ AntiEtch™ Features and Benefits
Stops etching and staining.
Crystal clear finish.
Can be applied on marble, limestone, onyx, travertine, and concrete.
Can be applied to honed, polished, and leathered surfaces.
Can be applied to both horizontal and vertical surfaces.
Low odor during application.
Environmentally friendly.
Safe on food-contact surfaces.
Zero porosity – germs and bacteria have nowhere to grow.
Will not crack or peel.
Easy to maintain and repair.
Durable – 10 year expected wear.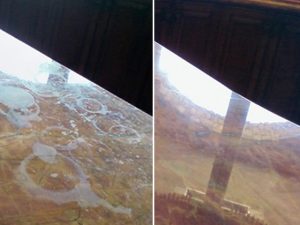 Time to Ditch Those Temporary Protective Solutions
Coasters, placemats, table runners, liners, and the like are noticeable and often unwelcome solutions for stone protection. While they may keep your tops in decent condition, they also cover the beauty and elegance of the natural stone. MORE™ AntiEtch™ is very unobtrusive, enhancing the appearance of your stone.
Sealers must be continually reapplied and only provide minimal protection against acidic substances
—they basically only buy you some time to quickly wipe up the spill. But what if you don't notice the spill or don't have time to immediately attend to it? MORE™ AntiEtch™ eliminates the need for sealing your stone, because it puts a barrier between your stone and acidic substances. MORE™ AntiEtch™ is great for residential stone protection, but especially ideal for commercial applications in restaurants, wineries, hotel vanities, and more.
Are you looking for etch and stain protection for your countertops, bar tops or table tops? Reach out to us. We'll be happy to give you a free quote. Send us a message on our CONTACT FORM or give us a call at (801) 856-0164.
Contact us to request a FREE quote